Chris Harman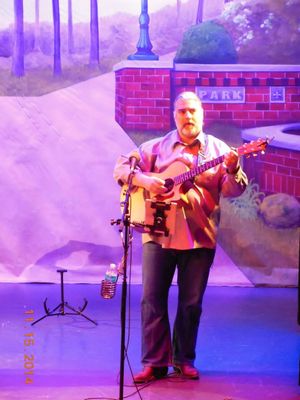 Born into a pack of wolves and raised by psychologists who performed behavior modification experiments on him at a young age. Chris has had his share of musical adventures. First, he started on the acoustic guitar at the age of 7, trying to sing those old cowboy songs, playing along to the radio and singing with his Dad (it was the best of times). Later in his hometown of Spokane Washington he formed his first band at the age of 14, playing Bass guitar because he was the last one to buy an instrument (thus a cliché was born!). He still studied guitar, taking classical guitar and acoustic guitar lessons. His guitar teacher once asked him. 'So why do you want to learn guitar?', to which Chris replied 'I can't dance and I wanna meet girls!'. 'THAT'S! a good enough reason!' his instructor declared. And to this day Chris' dancing skills can be best summed up as ... a type of spastic shimmying with some odd and possibly painful twisting of the spine, best described as a cringe worthy display of herky jerky arms and legs akimbo punctuated by arrhythmic footwork…
His hometown heroes band was called Cleaco Daichis –an unpronounceable composite of band members nick names (yeah they weren't marketing geniuses) They did, however, tour the Eastern Washington region playing original music in bars (some with chicken wire, literally! Chicken wire across the stage!). They promoted their own music events (Spring Flings and biker rallies) paying the bands from proceeds of the 'refreshment' stands (ahemmm). All before the age of 18. Until reality and monetary instability, forced this talented foursome apart.
Chris then joined the U.S. Air Force and quit performing for 7 years, but he still played his guitar, secretly, in a dark and empty room. After being assigned to duty in Europe as a computer programmer Chris formed multiple bands in different genres; Radio Flyer (80's rock, 86-88), False Alarm (classic rock, 88-92), Basselope (alternative/grunge, 93), and finally Texas Pride (both kinds of music! Country and Western! 93-96). It was with Texas Pride, that Chris toured extensively throughout Germany, Belgium, Netherlands, France and Italy, opening for such acts as the Bellamy Brothers, Charlie Daniels, Michelle Wright and Martina McBride. While talking to the band backstage after their set, Charlie Daniels exclaimed 'Well….you boys is just a national treasure ain't ya?...' (ahhh Charlie, you are a poet). But again Texas Pride folded its flag and the band members went to separate parts of the globe and Chris was reassigned to Offutt AFB back in the good ol' US of A!!
Chris then retired from the Air Force and now works as a government contractor doing things that he is not allowed to talk about but it rhymes with puke-lear prop-arations. He is now a recovering bass player, playing acoustic/electric guitars in; Harman, AnEvening, Dance of a ParrottHead, and Boys Named Sue. He sings lead vocals and harmony vocals. Loves his wife dearly. Tries not to take himself too seriously. Yet still, the dancing, is not …well it's not good (bless his heart!!). He can be found on many nice days sitting in his grandpa's rocking chair on the front porch, singing them old cowboy songs to anyone who will listen. Just like he did with Dad.
Dorothy Harman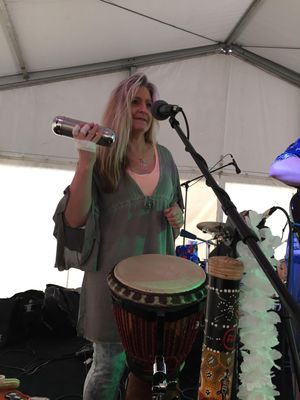 Dorothy sings vocals and plays percussion for the John Denver, Johnny Cash, and Jimmy Buffett tribute shows.  Dorothy performs all shows surrounded by a myriad of percussive instruments and her beautiful vocal harmonies are key to "An Evening's" distinctive sound. Be sure to ask her about her "rock collection"!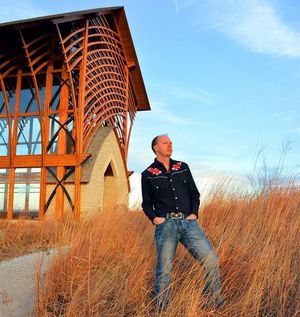 Donovan Johnson



Donovan is the keyboard player for the Johnny Cash and Jimmy Buffet tribute shows.  Donovan has studied music all his life. He's been a student, a teacher, a music director, a church musician, and a fill in for bands and jazz combos. He's performed at national historic sites such as the James J. Hill House in St. Paul MN, and the Corning Opera House in Corning IA. He's performed for audiences on Oxford Street in London England and in the town of Macclesfield, also in the UK. In Omaha Nebraska, where Donovan resides, he's held concerts at Witherspoon Hall in the Joslyn Art Museum and at Strauss Recital Hall on the UNO campus, two of the cities finest musical venues.  Donovan's latest album "Rustic Piano" will be released in the spring of 2017.  Check out Donovan's webpage.
Jim Jarzynka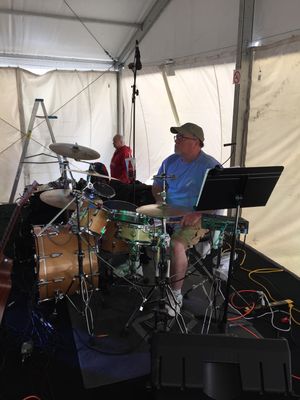 Jim is the drummer for the Johnny Cash and Jimmy Buffett tribute bands. Jim started playing drums at age 16. Through the years, Jim has performed with a good number of local bands covering Original, Classic Rock, Dance, Pop, and even some Irish music.  You can always count on Jim to provide steady time, but he should never be allowed to use a microphone. 
Greg Eckstrom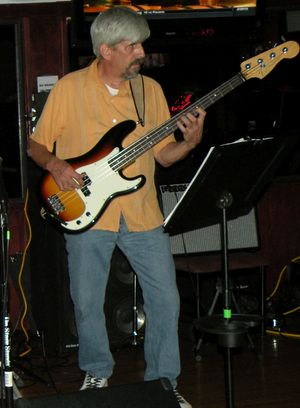 Born and raised in Nebraska, Greg Eckstrom's first love has always been music.  After graduating from UNO in 1982 where he played tuba in the marching band, and with the first of 5 kids already on the way, Greg sold all his gear and focused on his family and career.  Fast forward 30 years, a daughter got involved in the Omaha Blues Society's "Blues Ed" program.  Highly recommended for 13 to 17 year kids with talent, they start them actively gigging after only a few months.  Greg took an active role in the organization, and that involvement fueled a growing desire to make music and perform again.  A few years later when his youngest daughter decided she was done with music lessons, he had his opportunity.  Buying new gear, woodshedding at every opportunity, growing musically with some good friends made along the way, and gigging, most recently with the band "Built For Comfort", it's been a rewarding experience for him.  Now, instead of cutting grass, maintaining his house, and taking his wife to dinner, he's practicing, rehearsing, and straining his credit limits on new gear that will mostly sit in his basement.  I mean, who needs 7 basses, 3 guitars (he doesn't even play guitar, but believes that some day...) and 7 amps?  Silly rhetorical question.  If you see Greg at a show introduce yourself. If you see him on your porch, just pay him for the pizza.  
Dustin West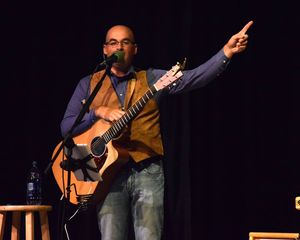 Dustin has decided to step away from An Evening and it's tribute show to pursue a solo career. We wish him well and thank him for all those years and shows. Fair winds and following seas braagh!